PROFILE OF DR. R.U. UTUBAKU, NEW PROVOST OF F.C.E, OBUDU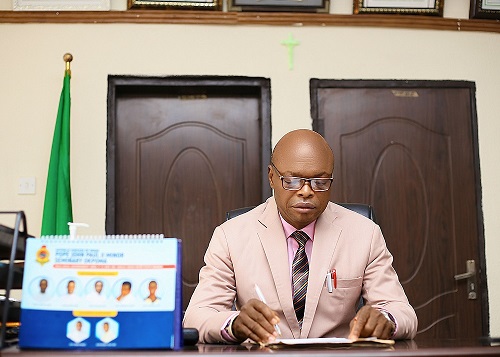 The new provost of the Federal College of Education, Obudu, Dr. Richard Ugbaha Utubaku is the seventh substantive provost of the College. Incidentally, he came on board during the period of the 7th Governing Council of the institution. His appointment by President Muhammadu Buhari, GCFR on March 3, 2022 defied the permutations of all naysayers as he made his mark during the rigorous process and subsequently became appointed as the Chief Executive of the College.
For the avoidance of doubt, it has to be stated unequivocally that Dr. Utubaku is a home grown Provost. He is a great alumnus of the institution and belonged to the fourth set of NCE Students. He graduated in 1990. The College therefore remains proud and considers it a great privilege that her former student has been selected to man the affairs of the institution at this auspicious time.
The greatest joy in the appointment is that it was not predicated on any mundane factor, but rather on the ennobling attributes of quality academic and educational attainments, character and integrity, administrative sagacity and admirable community services. That is to say that although the new provost was initiated into tertiary education as an NCE graduate of the College, the programme however can only be regarded as the foundation for his laudable educational attainments. As he graduated from the College therefore, he immediately entered the University of Calabar same year in 1990 for a degree programme in Mathematics/ Education. He graduated in 1992 with second class (Upper division). Following a conscious interregnum that was created by the desire to entrench himself in the world of work, he eventually enrolled for a Master's degree programme in 1999 and was awarded the M.Ed. of the same University in 2006. Thereafter, he sought for and was admitted into the University of Agriculture, Makurdi for a Ph.D. programme in Mathematics Education. He graduated in 2015. It is a big testimony therefore that the young Richard who first started his educational journey at the Primary School in Bebuabie and Secondary Education at both Ipong and Government Secondary School, Obudu was able to get to the peak of his educational pursuit just by mere dint of hard work, determination and strong will power.
As Dr. Utubaku joined the services of the Federal College of Education, Obudu on November 11, 1993, it was quite obvious that he had been adequately prepared to contribute his quota in the growth and development of the College. It did not take him time therefore to establish himself as a passionate lecturer as he willingly and selflessly imparted knowledge to his students whom he cherishes so much. Being a consummate academic also, he equally plunged himself headlong into the serious business of teaching, research and supervision. This facilitated his rise on the job as he rose through the ranks and became a Chief Lecturer of the College in record time.
Being a versatile and committed administrator, the College always found him worthy to serve in key academic and administrative positions. He served as both Coordinator and Director of Pre- NCE (2004 – 2006 and 2014-2017); Member, Teaching Practice committee; HOD, Department of Mathematics (2007-2011); and Dean, School of Secondary Education, Science programmes (2017-2019).
 He also served in important Committees of the College such as Chairman, Social /Welfare Committee, Member, Academic Prizes and Awards Committee; Member, Degree Awarding Committee; Chairman, Sub-Committee in project Defence in Degree programme; and Chairman, Security Committee, 19th     NICEGA (Nigerian Colleges of Education Games) Obudu.
Others are Chairman, Staff Disciplinary Committee; Chairman, 2818 NCE Accreditation Sub-Committee on Schools/ Departmental / Academic needs; Member, Investigation Committee on threat to life of Dr. Michael Akpe; and Chairman, Students Union Government Electoral Committee among numerous others.
He also stands tall in the area of research and publications. Dr. Utubaku has attended and presented over twenty-five conference and seminar papers, published over twenty-five Journal articles, contributed about twenty-six book chapters and has published three standard textbooks in his area of specialization.
The Provost is involved in different categories of community services through which he has impacted on the society in very significant ways. He is happily married and blessed with five Children.